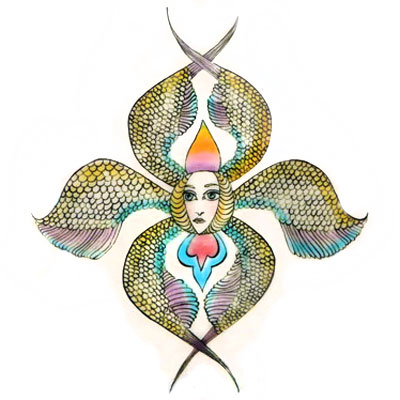 Marie Porterfield Barry is a very small being currently living on a giant spinning orb.  Before she was born her mother prayed that her daughter would have large eyes.  Marie attributes her innate artistic aspirations to this mysterious prayer.  Marie was born to the Appalachian Mountains, where the wilderness taught her to see.  Beings live there that science fails to grasp.  They say the mountain lion cries in the same voice as the woman.
Marie studied art for seven years in the south-eastern region of the United States, where she earned a Master of Fine Arts degree before moving abroad to Eurasia.  Following completion of her MFA, she was awarded a Fulbright Grant in Creative & Performing Arts with which she studied traditional Turkish tile painting and initiated a collaborative public art installation in the Anatolian city of Kütahya.  After living abroad for several years in Manchester, England, Marie returned to the United States. She continues to paint and is currently teaching studio art and art history in Tennessee.
"The form of imagination is between intellect and sensation,
and imagination has no locus save the soul." -ibn Al-'Arabi
© 2013 Marie Porterfield Barry, All Rights Reserved.  All works on this site are copyrighted by the artist. The use of any image from this site is prohibited unless prior written permission from the artist is obtained.  Please contact me with any inquiries:  marieporterfield [at] gmail.com.